Oct 04, 2017

Saving the arts in LA public schools with Artists' Political Action Network at The Smell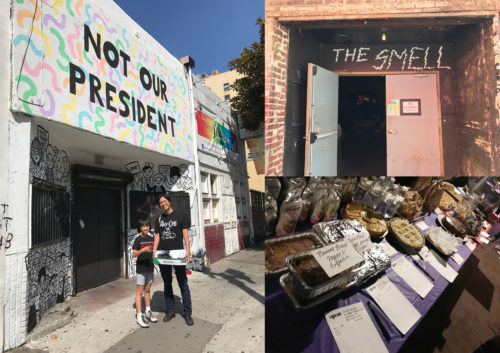 I can talk until the end of the day about enjoying the process, being content with doing one's best, and stuff like that. But it's also pretty cool when something you work on and care about is recognized, and even cooler to be asked to talk about it in front of a crowd that is more knowledgeable about the field than you are.  That's what happened this weekend after was invited by my friend Evan to tell the Save Music in Chinatown story at an Artists' Political Action Network event.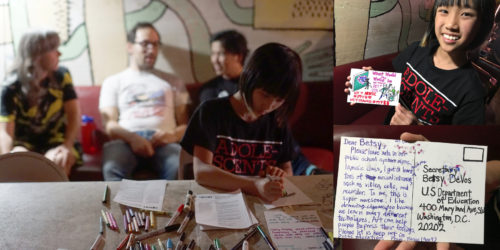 More than just a talk about Saving The Arts in LA's Public Schools, there was a bake sale to raise funds for the cause and a postcard-writing station where attendees of all ages could voice their support of arts education to our country's head educator Betsy DeVos, who is on a dual mission to privatize our public school system and pull funds for arts, immigrants, English learners, inner-city schools, and pretty much anything that describes my daughter's school.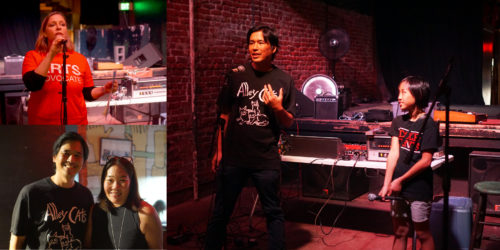 The first two speakers were Asuka Hisa, the Director of Education for the Institute of Contemporary Art, Los Angeles, and Karen Louis, the Deputy Director for Arts for LA. How I got on the same panel as two trained, experienced leaders who fight for the arts on institutional, political, and policy levels is beyond me. Good thing I had secret weapons: Having Eloise join my talk and getting to introduce Money Mark, an old friend and supporter of Save Music in Chinatown whom I invited to perform at our event. As is often the case, he brought a thrift shop score–Star Wars sounds that came with a children's book–and improvised the heaviest jams from it. Afterward, he dubbed the performance Good Morning, Star Wars.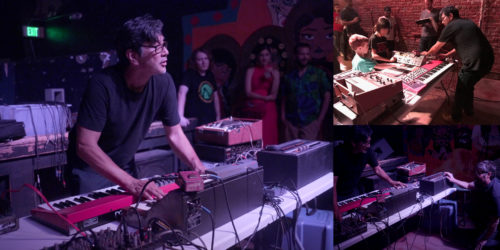 It was a fun, informal afternoon with my friends and supporters Gabie and Daryl from KCHUNG playing the coolest old and new punk wax and plenty of pals driving from behind the Orange Curtain, coming over from the Westside, and even walking up from Chinatown to check it out. And how perfect was an event dedicated to ensuring the availability of arts education for all young people to to happen at The Smell, an all-ages institution when it comes to underground music and culture in Los Angeles?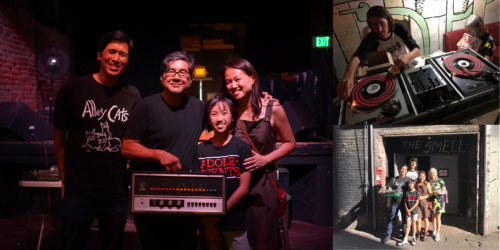 Who would have thought that my family's Save Music in Chinatown project organizing all-ages punk matinees to raise funds for Castelar's music program would stretch into its fifth year? Who could have guessed we would be invited to talk about it by actual arts and education activists? How did I wind up speaking on the same PA that so many of my favorite bands (No Age, Lightning Bolt, Le Tigre, Chain & The Gang, RAD, Bob Bruno, HowardAmb, Best Coast…) have used? Not me. But surrounding one's self with like-minded friends, doing something you care about, and having fun in the process was not only the gist of the speech but what made it happen.