Aug 29, 2017

Channel 3 with dozens of bands at a hundred degrees at It's Not Dead 2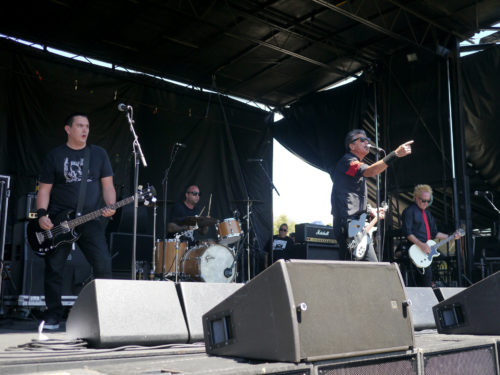 It's been at least three or four years since I've been to a big music festival. Too hot. Too dusty. Bad food and even worse bathrooms. Don't get to see all the bands I want. All that was true for Saturday's It's Not Dead Fest 2, but how could I not see my pals Channel Three and Bob Forrest, plus a bunch of other cool bands just an hour away for around 50 bucks? And free-but-dirty parking? Sign me up!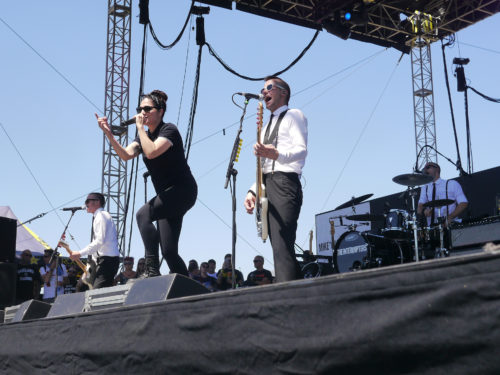 It's true that the day was slightly rigged in my favor. I asked my friends in Channel 3 if they would set me up a photo pass so I could take pictures to help get the word out about their upcoming record release show/the Save Music in Chinatown fund raiser gig for my daughter's elementary school. It worked, CH3 got slotted to play first on one of the big stages, and someone with a walkie talkie at the front gate graciously allowed me to bypass the line gathering in front at noon to shoot the 12:30 set. In my estimation, the staff, crew, and bouncers were all very cool all day.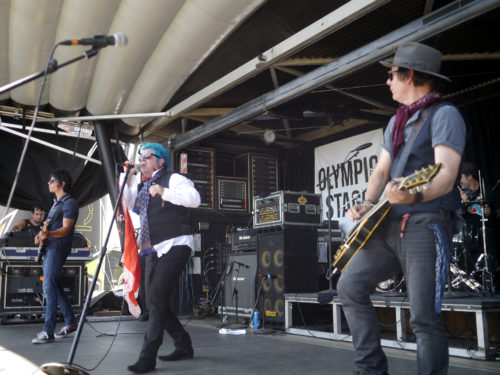 And Channel 3 totally kicked off the show proper. Listening to CH3's fabulous new record right now is not unlike to London Calling during the Thatcher-Reagan era–totally chilling, totally angry, and totally human commentary on the political climate yet timeless and human, and the live versions rip! So do the old faves with new drummer Nick. Welcome aboard and I look forward to meeting you in a couple of weeks!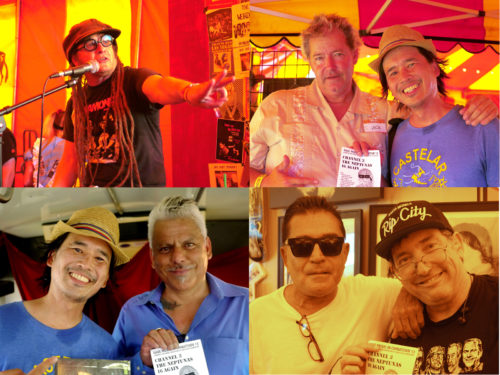 When CH3 packed up, I surveyed the beginnings of the The Interrupters and Slaughter & The Dogs' sets from up front. Where else could I see two bands from different continents, Americans channeling second-wave ska and original British punkers, both exploding with energy on a blazing hot day? To be honest, the crowd was mellow enough where you didn't need a pass to be able to see well and snap some good photos–unless you wanted to shoot up people's cargo shorts and see their nose hairs.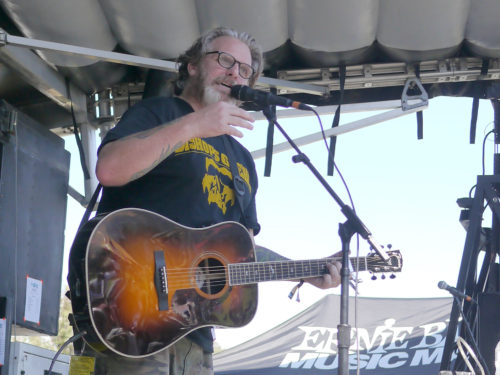 Between bands I ducked into the Art's Not Dead tent a few times to check out readings and photography, as well as say hi to some friends. It wasn't much cooler than outside but at least it was shielded from the sun and I got to do some shilling for Save Music in Chinatown.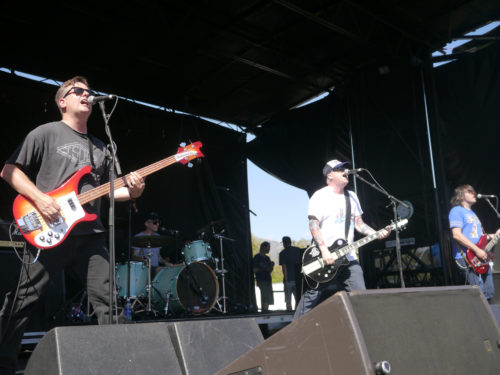 Kevin Seconds played his earnest acoustic songs, which I love, sprinkled with renditions of hardcore favorites by 7 Seconds. Right on! Then I watched some old friends in Down By Law, at first the joining of forces from ALL and the Chemical People in Los Angeles but now rarely seen on the West Coast. And who would have thought that I'd ever get to see The Selecter? Last year I got to see Rhoda from the Bodysnatchers, so now I've got the classic Dance Craze soundtrack covered except for Bad Manners.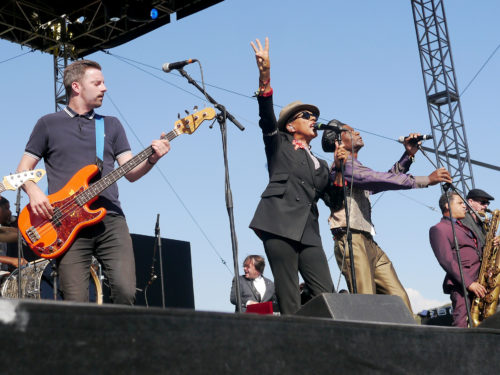 It's always excellent to see Bob Forrest, who has been playing a lot of Thelonious Monster with his old partner Mike Martt lately. (Some Bicycle Thief, too.) The songs are heartbreakingly honest and beautiful whether they're in a small bar with drunks, book store with coffee drinkers, benefit matinee in Chinatown with cookie eaters, or mobile stage in the desert with mohawks. Nate from Save Music in Chinatown's inner circle was there to assist Bob and Mike, and it was rad to hang out with him after the set. And drink the cold water he grabbed to me in the artist areas!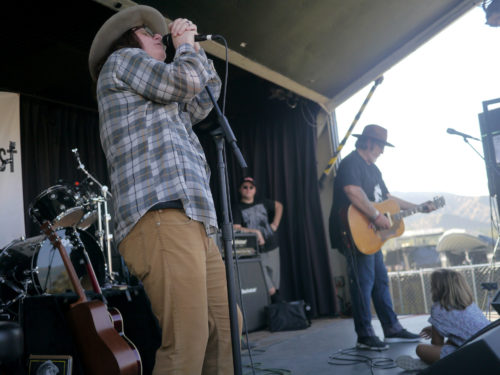 I reached the big stage too late to see the Buzzcocks from the photo pit (only available during the first three songs of each set) but there's something great about seeing a band of their stature with thousands of other punkers singing along. A real treasure of a group with brilliant songs that you can't not sing along too. Whoa-oh!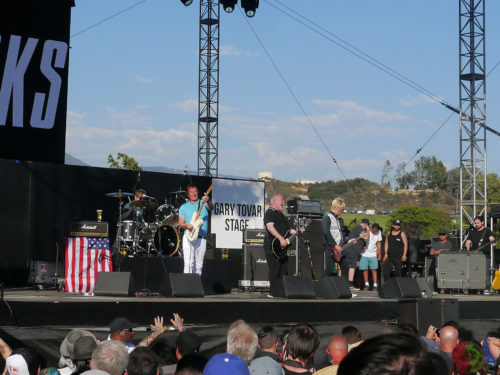 Even Keith Morris was shocked that OFF! would follow what he called one of the greatest bands of all time–and who hasn't he seen in their prime? But in my opinion his most current combo is somewhat responsible for the resurgent popularity and vitality of hardcore as well as building a bridge between punk rock's past and today's garage rock, hardcore, and underground music in general. A fest like this is kind of his fault. Good thing OFF! always delivers the political, musical, and cathartic goods.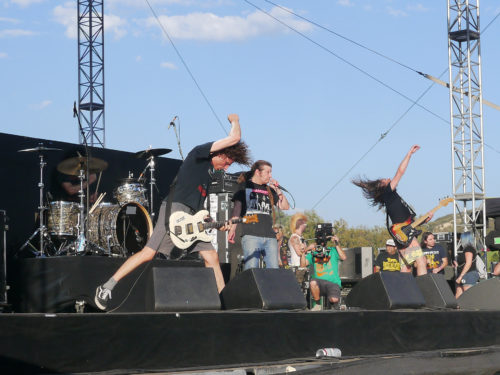 Things could only go downhill after the Adicts made their grand entrance, so Nate and I hit the road. It would have been cool to see Rancid, who I haven't seen since they played their second or third show ever at the Hong Kong Cafe of all places, but we needed to get out of the sun and grab some food, and some friends' bands were playing at Cafe NELA…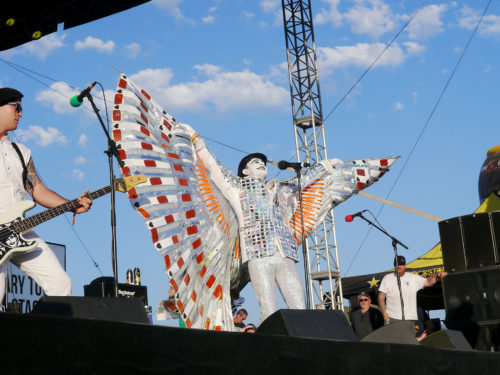 Check out Channel 3 on September 10 at the Grand Star in Chinatown to celebrate their excellent new LP and raise money for the neighborhood's public school! Unlike It's Not Dead 2, it will be indoors and air conditioned with an excellent bake sale and clean bathrooms. 🙂