Aug 08, 2017

New books roundup from Comic-Con 2017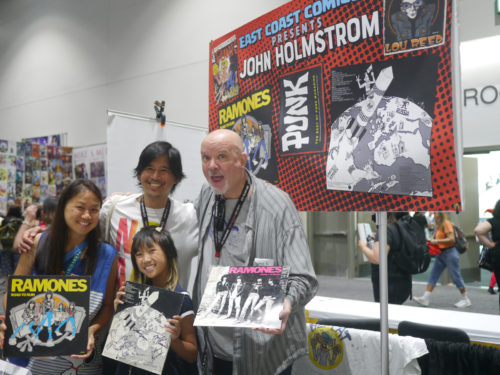 The San Diego Comic-Con is so three weeks ago, but for me it hasn't stopped because I've been reading comics every night ever since! I won't bore you with my entire stash of purchases, but will share some of the new releases.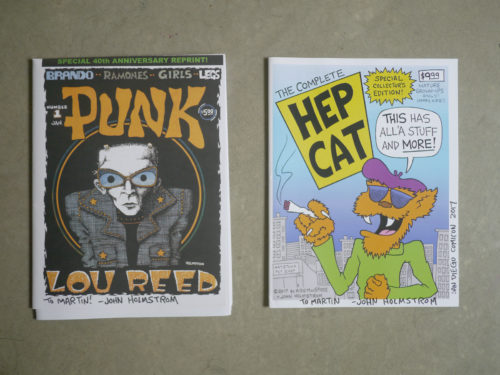 Besides having John Holmstrom sign some Ramones albums and the Best of Punk book, I got the 40th anniversary reprint of the first Punk magazine as well as The Complete Hep Cat. The former is a real time capsule of the New York scene featuring interviews with Lou Reed and the Ramones. The latter, underground comix that combines the anthropomorphism of Fritz The Cat and dope humor of Fabulous Furry Freak Brothers. Fun!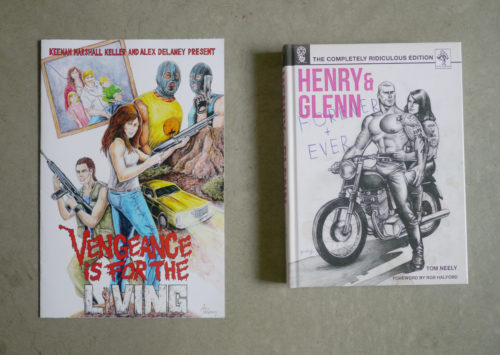 I always say hi to Humans creators Keenan Keller and Tom Neely at the Art Book Fair, Zine Fest, and other conventions. This time I got an ashcan preview of Keenan's latest exploitation comic, Vengeance Is For The Living, which will surely please critics of the I Spit On Your Grave remake. By now everyone should know what Henry & Glenn Forever & Ever is all about, but the Completely Ridiculous Edition of the lovingly tweaked slash fiction tribute to the lead singers of Black Flag and The Misfits, which has everything, includes a forward by Rob Halford, the Metal God! ( I was too cheap to buy the limited-edition version with a dust jacket.)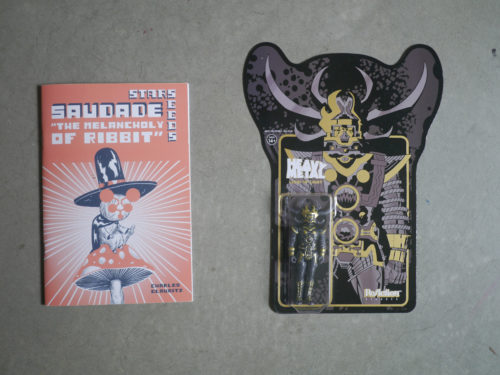 I already had Charles Glaubitz's mind-blowing Fantagraphics debut, Starseeds, but  was pleasantly surprised and very stoked when he reached into his backpack and pulled out a preview of the 2018 installment of the psychedelic saga, which reads like Zardoz and 2001 in Jack Kirby's Negative Zone. The zine is signed, numbered, and limited to 250, and Eloise and I have two of them. And speaking of The King, I hardly ever buy toys any more but I couldn't resist ReAction's Lord of Light. After sitting on a few Kirby panels, one of which was about the sci-fi movie/amusement park/CIA mission, I had to get the blister-packed gold edition from the Super7 booth.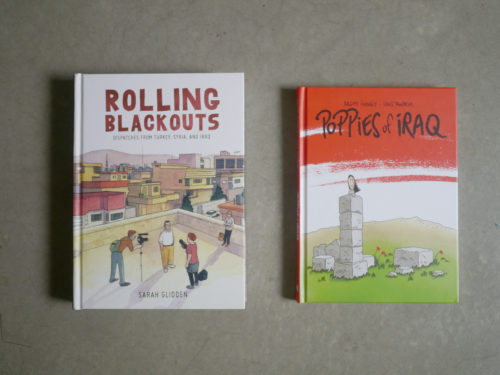 It never fails. After attending a panel with Drawn & Quarterly creators Sarah Glidden, Brigitte Findakly, and Lewis Trondheim, I went to the booth, bought books, and had them beautifully signed. Rolling Blackouts is Glidden's retelling of a trip to Turkey, Syria, and Iraq with independent journalist friends. Poppies of Iraq is Findakly's heartbreaking and illuminating memoir drawn by her husband Trondheim. Either will transport you to times and places and in a way that prose cannot.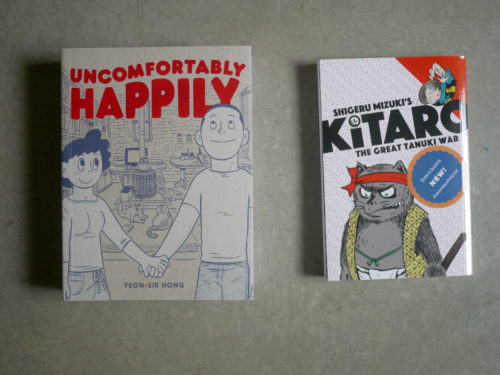 More books from Drawn & Quarterly. I've been regretting not buying Uncomfortably Happy from Hellen Jo at the Zine Fest. My friend the indie cartoonist and artist translated the understated and thick-as-a-brick Korean autobiographical comic, and I could have had her sign it back then! At least I have it on my shelf to read now. As for Kitaro and The Great Tanuki War, I'm always waiting for the next installment of the finally-translated-to-English classic horror manga by Shigeru Mizuki. When does the next one come out? Hopefully by next Comic-Con… See you there!