Jun 07, 2017

Fifth-grade art show and noise jam at Wirtz Elementary with members of the Big Boys, Minutemen, No Age…
My friend Erik Caruso is a fifth-grade teacher at Wirtz Elementary who thinks that art and music are as important to kids' educations as reading, writing, arithmetic, and  everything else. And since there isn't time or budget for it in his classroom, for the last eight years he has organized an after-school art program for kids in partnership with contemporary artists who provide examples and styles to inspire them.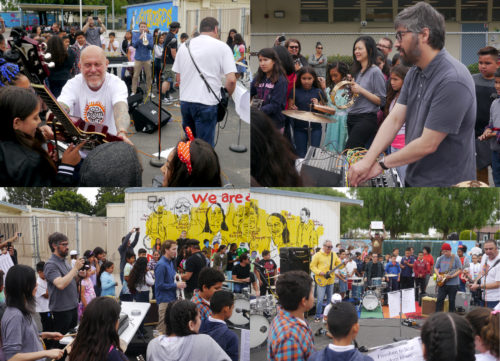 At the end of each school year, Erik organizes an art show in which the artists share their favorite pieces (either in person on recorded videos) and give tokens of appreciation. This year's artists included Ben Brough, Ben Clark, Hagop Najarian, Hi Dutch, Lookout & Wonderland (a.k.a. Yusuke and Niki), Nat Russell, Sandy Yang, Shepard Fairey, Tim Kerr, and Yusuke Hanai. What a cool selection of artists from across the country and even Japan!
Erik stressed to students at the presentation that it wasn't a competition, explaining that it's a matter of taste. Some people like cheese. Others, pepperoni. But everyone gets to make and eat pizza or, in this case, art. It was really cool how many parents showed up to see their kids' art and be recognized, and Erik recognized and thanked them for supporting artistic endeavors alongside academic responsibilities.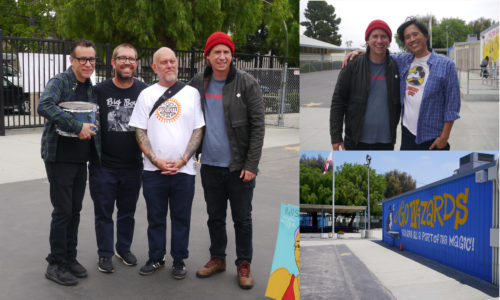 There's always a musical component to the event, too. This year, Erik facilitated a noise set with artists Ben Clark, Hagop Najarian, Sandy Yang, and Tim Kerr in addition to previous participants Mark Waters, and Mike Watt as well as friends Adam Dibert, Bryan Brown, Fred Armisen, Julian Keith, and Randy Randall. How amazing is it to see members of respected DIY bands like Big Boys, Minutemen, and No Age (not to mention a ton of other cool groups) jamming with kids on toy and homemade instruments, raving up Sly and the Family Stone's "Everyday People" and then playing a 20-minute noise jam with a chant that went "Freedom to hear, Freedom to see, Freedom to live, Freedom to be." You really should have been there, but the effects will surely ripple through the neighborhood and into the future…
My wife Wendy and I left the event full of smiles, energy, and hope, carrying with us the reminder that with one crazy idea and help from a bunch of friends can make a big impact on an entire generation of kids–not to mention the handful of us adults who were lucky enough to be present. In this privatizing climate, now is the time for all of us to do more for our public schools, our children, and our communities, and have a blast at the same time!