Dec 20, 2017

Save Music at ArtCenter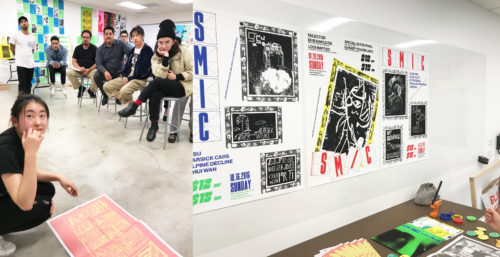 Just a couple of months ago, I received a message from an ArtCenter student. She was in Chinatown doing research for a project, picked up a free Wapow! magazine, and read the article I contributed about the Save Music in Chinatown fund raising concerts that my family have been organizing to support the music program at Castelar Elementary. Would we mind if she used our all-ages matinees inspired by the punk shows at the old Hong Kong Cafe as the subject of her project? Did we know any kids who might want to take part in it?
My wife Wendy happens to be an ArtCenter alumnus and both of us have a history of supporting students at art schools–giving talks in classes, reviewing final projects, and simply buying prints, art, zines, and other stuff from students and recent grads. Of course, we'd want to help and not just any kid could provide usable work. The student would have to come over to our house and hang out with Eloise, our daughter who draws flyers and contributes to the zines for the Chinatown shows.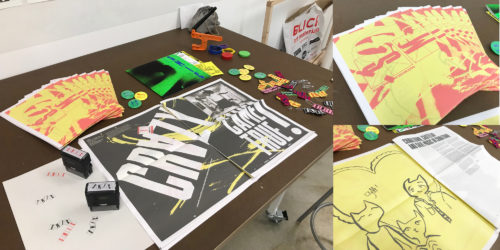 Our new friend Ziyi started visiting on Sunday mornings with arms full of art supplies (and snacks) and we visited the design department's studio space on campus as well. The art school and elementary school students drew portraits, words, and borders. Wendy and I supplied photos, text, and files from our zines but, because Eloise and Ziyi spoke mostly in Mandarin, we had no idea how everything would fit together.
Last week, Ziyi presented the finished project to her graphic design class and it was awesome to see how everything fit together. She and her classmates had been assigned to create material for local non-profits–a very cool assignment–and beyond just making posters, buttons, and patches, she referenced some of the roots of L.A. punk just like we did for our little concerts.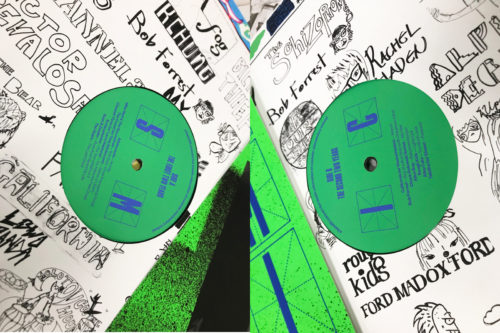 Ziyi printed an oversized newsprint magazine that recalled Slash and Search & Destroy and other art-damaged publications of the '70s that featured the first-wave punk bands our shows have paid homage to. Eloise's raw drawings made perfect sense with art-school design language and branding on low-budget paper with bold two-color printing. Very cool.
I especially loved the mock-up compilation LP with live tracks from our shows that she made. I swear it's as good as the legendary first side of Rodney on the ROQ Vol. 1 and features live versions of songs by Adolescents, Chuck Dukowski Sextet, Mike Watt & The Secondmen, Channel 3, Alley Cats, Alice Bag, Rough Kids, Schizophonics… A real pressing would be intense!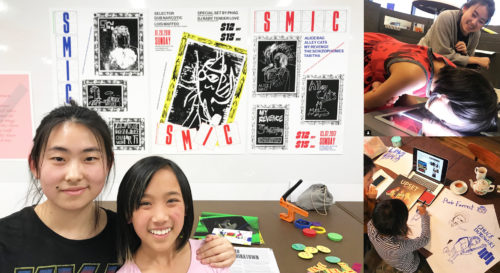 Ziyi's pieces were deservedly well received and I wound up getting to talk about our project to the class, too. It's pretty cool to be able to help out an excellent student, expose Eloise to art school, and make a friend all at once. Not only that, but we can give some magazines to friends and supportersand use her poster at our next show in January, too! Hope to see you there…
Support artists and the arts, and follow Imprint on Twitter, Instagram, and Facebook, too.