Sep 05, 2017

Save Music in Chinatown 13 with Channel Three, The Neptunas, and 16 Again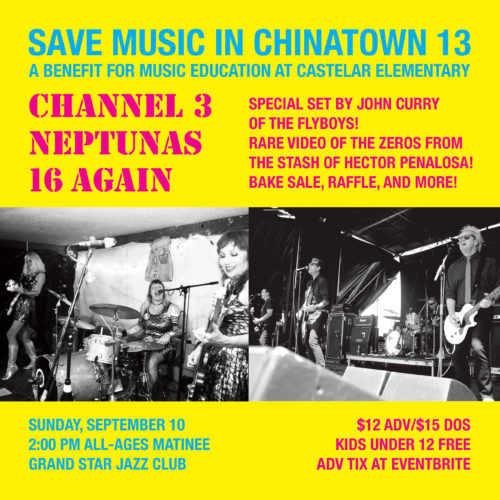 This may sound like a broken record, but it's a really good one–a scratchy slab of vinyl that you scored at a thrift shop with that killer song that was on a lost mix tape or perhaps last heard on Rodney on the Roq decades ago when you were a kid. Anyway, for the thirteenth time we're announcing a Save Music in Chinatown all-ages matinee. This one will be at the Grand Star Jazz Club on Sunday, September 10.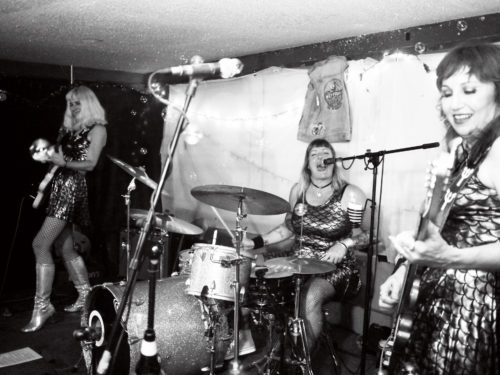 It was my wife's crazy idea to throw benefit concerts to raise money for the music program at our daughter's public elementary school, which we love. I had a lot of reservations and no experience, but thought about Castelar being in Chinatown and so close to the old Hong Kong Cafe. The upstairs portion of that restaurant was one of the hubs of L.A. punk rock from 1979-1981, providing space for bands like The Weirdos, Dils, Bags, X, Germs, Plugz, Go-Go's, FEAR, and Black Flag. There was also Madame Wong's across the plaza hosting less-punk-but-still-cool groups like The Plimsouls and Wall of Voodoo. Why not have shows carrying on the neighborhood's tradition to help provide a creative outlet for underserved kids who live there today? With help from old and new friends playing our shows, providing local venues, contributing to the cool raffles, organizing the legendary bake sale, spreading the word, and simply attending, we've made it though twelve shows and four years.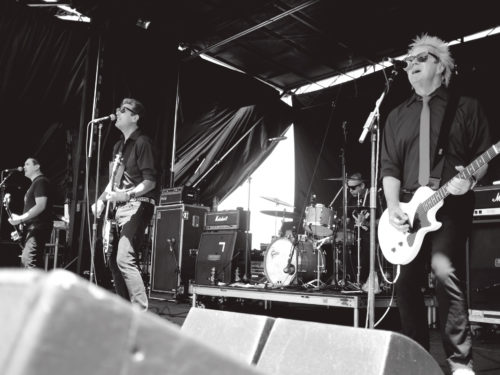 And it's been great. Where else can you find original punks like The Gears, The Crowd, Adolescents, Alice Bag, Mike Watt & The Secondmen, or The Chuck Dukowski Sextet playing in a small, clean venue with little kids dancing around in front like the Peanuts gang on Target Video? Where else can you also see newer bands that are part of that underground and underdog tradition like The Schizophonics, Rough Kids, Bad Cop/Bad Cop, Birdstrking, Carsick Cars, Chui Wan, Upset, or Bombon? And coveted musicians who fall in between like The Bicycle Thief, Money Mark, or Dengue Fever? All of them playing our humble little stage to help out kids has been a real surprise, honor, and blast.
Sunday's lineup includes the return of ROTR-approved punks Channel 3, who played our second show and are celebrating a great new record. I think their politically charged hooks provide a perfect soundtrack to what we're doing. Getting families together, enjoying music, and eating cookies can be a political action and social statement when budgets for public education, arts programs, inner-city youth, and immigrant communities are being slashed. And check out Mike's Castelar shirt in the video, above! Adding to our show are the garage surf riffs of The Neptuna, and pogo-ready punk by 16 Again, as well as a special set by Flyboys singer and Hong Kong Cafe regular John Curry, plus unseen footage of The Zeros from original member and longtime supporter Hector Penalosa. All that and really good cookies.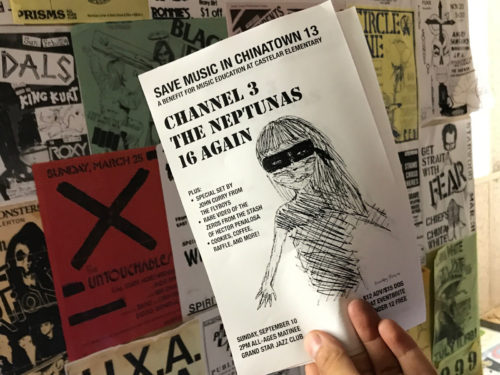 We hope to see you on Sunday. Get more information on Facebook and buy advance tickets at Eventbrite!