Sep 13, 2017

Save Music in Chinatown 13 recap with CH3, Neptunas, and 16 Again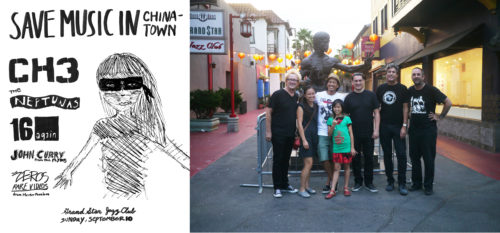 On Sunday, Wendy and I embarked on our fifth year of putting on all-ages matinees to raise money for the public elementary school in Chinatown where our daughter attends fourth grade. Even after thirteen shows, it still hasn't gotten old–maybe because I see so many friends and family and only ask bands that I love to contribute. Channel Three played our second event. Now they've got a brand-new LP and they chose to make our little stage their record release show!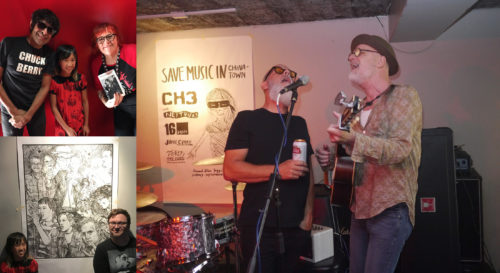 Along with CH3's singer Mike Magrann, Hector Penalosa attended our very first matinee and has stuck around for the entire ride playing with his bands My Revenge (twice) and Baja Bugs (once). This time he compiled some vintage videos of his old, legendary group The Zeros to warm up the stage for a special set by John Curry, who treated us to some brand-new songs as well as faves by his old bands The Plugz (regulars at the old Hong Kong Cafe, whose punk rock tradition inspires our benefits) and FourEyedFour (who played Save Music in Chinatown 7). Nice!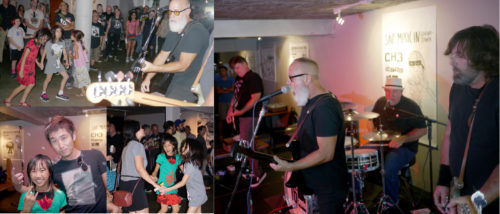 There were so many friends of the cause in the crowd–Tsubasa from Rough Kids, Rikk Agnew from his own band, Dan from Adolescents, Adolescent adjacent Ace, Dennis from The Crowd, our assistant principal, his wife, and three teachers, for starters–and even more around the stage and on it. Of course, Nate is continuing his quest to improve the low-budget sound in the otherwise wonderful space of the Grand Star. And then we had 16 Again playing loving versions of The Buzzcocks, Undertones, Jam, Clash, Ramones, etc. but with members of The Crowd as well FourEyedFour (Save Music in Chinatown bands) the renditions are as fierce as they are fun.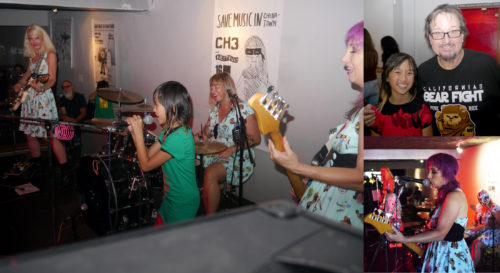 New to the party were The Neptunas, but they were already friends of friends and natives of the scene that I grew up in. While I missed out on the original punk rock days of the Hong Kong Cafe, Starwood, Vex, and Masque, I did go to Jabberjaw, Al's Bar, and Raji's. (R.I.P. to all of them, by the way.) The garage-surf-punk Neptunas were part of the latter scene and I think it's cool to mix up genres and eras. Of course, all that was wrapped up in a neat bow when the trio covered Agent Orange's "Bloodstains," looking back at the Rodney on the ROQ compilations that helped grow punk rock and introduce CH3 to the world but featuring our own little kid Eloise on guest vocals!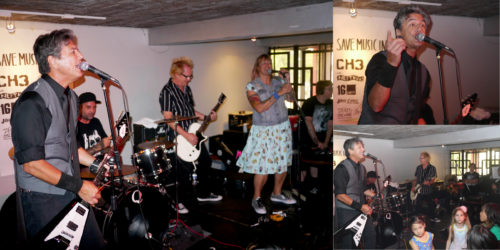 CH3 capped off the night with set of excellent new songs ("Model Citizen," "God That You Deserve," "All The Night") and classic cuts ("I Wanna Know Why," "Catholic Boy," "I Didn't Know," "Indian Summer"). No "I Got a Gun" but "You Make Me Feel Cheap" had guest vocals by Laura from the Neptunas. Cool! How lucky are we to have a band like that play on our stage that's maybe a foot tall, instead of The Roxy, Observatory, or even Alex's Bar? And with little kids dancing in front and a raffle and bake sale in back? That doesn't get old at all–maybe because we had no experience going into it and have gotten by with so much assistance and love from old and new friends, seasoned punks, Castelar families, and the Chinatown community alike.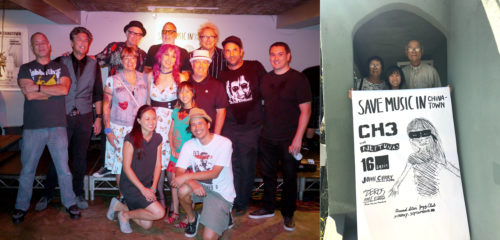 But it won't last forever, either. When the magazine that I helped start and Wendy also worked on ran its course, I figured that we would never do anything nearly as cool, interesting, or important again. Well, here we are putting on these rad shows three times a year, helping the kids and community in Chinatown, making zines and going on the radio to promote the cause, and accumulating even more incredible friends. Eloise moves on from Castelar in one or two years, so please join us at the next show. Support public education! Promote the arts! Expose kids to underground culture, celebrate historic neighborhoods, and have fun making a difference!