May 10, 2017

Looking back at four years of Save Music in Chinatown, and looking ahead too
Sunday's Save Music in Chinatown fund raiser might have been the most packed, fun, and exciting all-ages matinee we've had so far. Turning friends, family, and guests onto the garage rock upstarts The Schizophonics and all-star super power trio Tabitha was just as much of a blast as having first-generation L.A. punks The Alley Cats, Alice Bag, and Hector from The Zeros with his new band My Revenge play right across the plaza from the old Hong Kong Cafe, plus kids dancing like crazy, everyone getting hopped up on a great bake sale, and raising money for the underfunded music program at Castelar–blah, blah blah. The details are boring to those who don't listen to punk rock, advocate for public education, or live in Los Angeles, a.k.a. most of the world.
But I got to thinking that after four years of doing this, there are actually a few things I've realized after putting on these shows that might benefit non-punkers, non-parents, and non-Angelenos–not to mention people with more sophisticated aesthetics or much bigger budgets.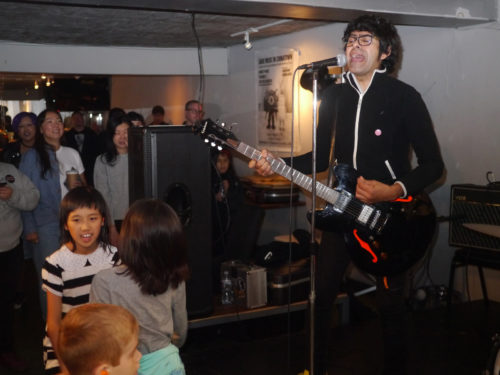 Stick with stuff you like – Sometime in the first or second year, I met a friend of a friend who left a sweater at one of our shows. With the best of intentions, she said that our show was okay but that we really needed to hire bigger pop bands if we wanted to make serious money. Also, we could get a lot more people to go if we organized flash mobs to help spread the word. Both might have been true, but I'd hate myself for organizing a show with music I didn't like or using online stunts that don't appeal to me. And what if they actually worked? I'd be doomed to keep doing them!
Do something that matters to you with people who matter to you – You never know when your work is going to die on the vine, explode in your face, or make you look stupid in any number of ways. Ideally, your endeavor will have a purpose that you can stand by no matter what. Align yourself with people you are proud to be associated with as well. If you are surrounded by assholes, you are likely to become one.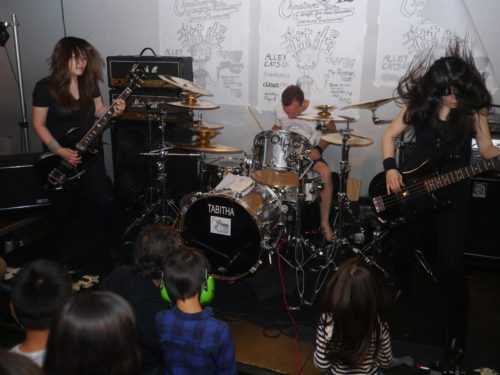 Enjoy the process, let stuff happen – We launched the concerts with the idea of helping Chinatown's public school pay for its music program, but hardly ever even think about the big picture goals. We savor little tasks like making flyers and taking them to record stores, going on friends' radio shows to help promote the shows, creating a zine, and seeing all the bands every chance I get before and after our shows. If you don't appreciate the details, you probably won't enjoy the bigger picture either. And if you take care of all the little things, the project will grow in ways you'd never imagine. I never expected a community to grow around our shows or that we'd become involved in local politics, but those have turned out to be some of the most rewarding aspects of what we do.
Nothing has to keep growing – There was a time when I got depressed that even though our lineups were incredible and so was our cause, we never got a lot of press and have hardly ever sold out our shows. But I've come to enjoy and appreciate each event being comfortably packed. What if my slacker friends couldn't show up at the last minute? What if it were too crowded for my elementary school student daughter or her friends or cousins to enjoy the shows? For me, success isn't measured by popularity or even how much money we raise but how much everyone gets out of the process as a community.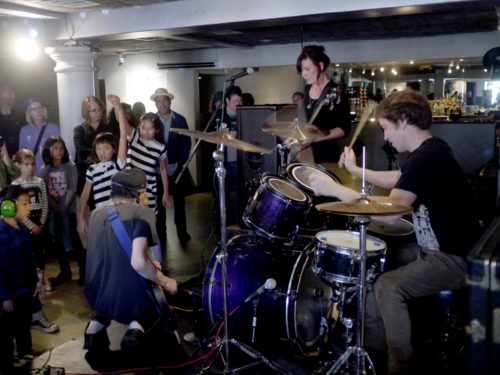 Nothing has to keep going – Sometime last year, I did the math and realized that we were halfway through Eloise's time at Castelar Elementary in Chinatown. I was a little stressed over time passing but have come to embrace the idea of our project having a beginning and an end, and not worrying about the concerts flaming out or becoming lame. We'll let the shows run their course and have the best possible time, and then see what happens next.
Not long ago, a teacher mentioned that she was going to miss having our daughter at school. My response was that Wendy and I will miss being there, too! Eloise is soaking in her primary school education like a sponge, but we parents have learned and changed immensely and in unexpected ways, too, in arts, activism, and political awareness. Let's see where it leads us…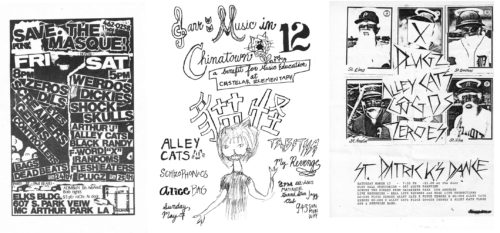 Be unafraid, and follow Imprint on Twitter, Instagram, and Facebook, too.